Packaging Machinery in Ahmedabad
The Khodiyar Industries Is One Of The Popular Company Of All Types Packaging Machinery In Ahmedabad, Gujarat, India. We Are Largest Manufacturer and Supplier Of Pouch Packing Machine, Liquid Filling Packaging Machinery, Tablet Packing Machine & Mineral Water Pouch Packing Machine. Our offered products are quite popular in the current Indian market due to their unique features and high quality. The secret to our high quality is that we get raw materials from market leaders.
In today's dynamic corporate world, we recognise the importance of efficient and dependable packaging operations. We have packaging solutions for any business, whether it is food and beverage, pharmaceutical, cosmetics, or any other.
We are dedicated to quality in each component of our packing machinery. Our products are subjected to stringent quality control checks at each stage of manufacture to ensure that they meet the highest standards. Our  packaging  machinery is built to last, with sturdy construction and excellent components, providing you with dependable performance and endurance.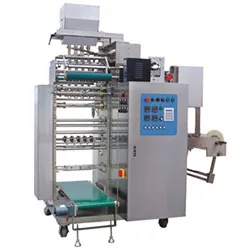 Packing Machine Manufacturer, Supplier - Ahmedabad
We are renowned manufacturer and supplier of packing machines in Ahmedabad! With our vast industry experience and expertise, we are committed to providing top-notch packing solutions to meet the diverse needs of our valued customers.
As a packaging supplier of distinction, we recognise the value of efficient and dependable packing procedures in today's competitive market. We have the ideal option for you if you work in the food and beverage, pharmaceutical, chemical, or any other industry that requires dependable packing machinery.
Packing Machine in Ambawadi
Packing Machine in Ambli
Packing Machine in Amraiwadi
Packing Machine in Anandnagar
Packing Machine in Asarwa
Packing Machine in Vastral
Packing Machine in Ashram road
Packing Machine in Aslali
Packing Machine in Ayojan Nagar
Packing Machine in CG Road
Packing Machine in Sabarmati
Packing Machine in Odhav
Packing Machine in Naroda
Packing Machine in narol
Packing Machine in Ellise Bridge
Packing Machine in Hathijan
Packing Machine in SG Road
Packing Machine in Shahibaug