Auger Filling Machine
We are the chief manufacturer and supplier of wide-ranging Auger Filling Machines in India, Yemen, Afghanistan, Iran, Iraq, Oman, Saudi Arabia. Auger Filling Machine is widely used in the food, cosmetic, pharmaceutical and confectionery industries to fill diverse types of substances like granules, semi liquid, very viscous materials, etc. They offer a precise filling of the material as well as high productivity because of their hi-tech auger screw, clutch brake as well as micro-processor control system. Match up to the huge market demands; we are involved in offering the best quality of these Machines. These Auger filling Machines are robust in construction and have a longer working life. Moreover, we are expert in providing the best quality of products at most affordable rates to our consumers. This machine is specially designed for an effortless and world-class experience of filling. Even the higher weight filling capacity is made suitable for filling and packing of a variety of products.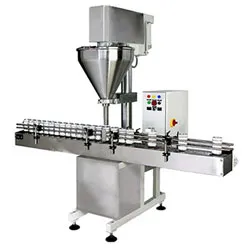 These machines are extensively known for its higher productivity and capability of offering best quality of output. We provide the highest quality materials & components procured from the most reliable vendors of the market. These are designed and made as per the international norms of quality and are based on the modern technology. We also customize them in diverse specifications as per the application requirements laid down by our customers.
---
Auger Filling Machine Manufacturer / Supplier / Exporter
We are recognized and most demanded brand well-known in the industrial market for offering wide range of Auger filling machine which is widely used for packing powder products. We are leading Auger filling machine manufacturer and supplier from India. Not even only in India we are flourished across the globe for offering huge range of packaging machine and recognized as foremost exporter of Auger Filling Machine. The biggest benefit of auger filling machine is that the filling systems are relatively closed. These machines are ideal choice for filling very fine powders, such as talcs, flour, spice, chemical powder, and baking soda. Our strict engineering and manufacturing standards help you conquer expensive downtime and needless waste. Consistent performance, low power consumption and enhanced serving life, make these collar type auger filling machines are hugely demanded. It is used in the industries like pharmaceutical, cosmetic and food industries. The dust extraction device is mounted in the mouth of the filling tube, designed for reusable working table height adjustable, baby talcum powder screw auger filling machine.
Features of Auger Filling Machine
Low power consumption
Flexible to use
Least maintenance needed
High productivity consumption
Minimum wastage disposal
User-friendly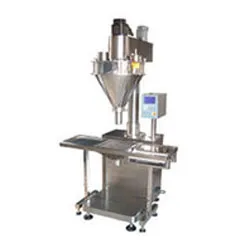 Technical Specification
Filling Range
0.5 gm. to 1000 gm.
Speed
6-25 fills per minute.
Packing Material
Pouch, Jar, Bottle.
Turret Drive Electric Motor
0.75 H.P / 415 V / 1400 RPM.
Turret Telescopic Cups S.S 304
All Contact Parts in S.S. 304 Standard